Opening Times over Christmas and New Year

We are closed on the 25th and 26th of December 2008 and re-open on the 29th of December. We are closed again on 1st January 2009 and re-open on 2nd January. Have a Happy Christmas and all the very best for the New Year. We would like to say thank you to all of our clients that have supported us.
---

Redundancy: RT Coopers has prepared Frequently Asked Questions on Redundancy - December 2008

We have prepared Frequently Asked Questions on Redundancy for both employers and employees.

If you are an employer, please click here.

If you are an employee, please click here.
---

Carlos Tevez Saga: Pursuit of Damages by Sheffield United FC from West Ham United FC - 29 September 2008

Tunde Oyedele from the Sports Law team at RT Coopers was asked today by BBC Sport Radio (BBC London Digital) to comment on the Carlos Tevez saga involving West Ham United and Sheffield United. The Court of Arbitration for Sport is due to decide whether it had the jurisdiction to hear the appeal of West Ham United, after an independent tribunal established under the Football Association rules delivered a "final and binding" verdict in favour of Sheffield United. The finding was in relation to Sheffield's United's claim to an entitlement to compensation from West Ham United, due to West Ham's survival in the premiership last season, at the expense of Sheffield United after employing the services of their "star player", Carlos Tevez, whilst he was ineligible to play for the team. After a string of key performances and a number of vital goals, Carlos Tevez's contribution to West Ham's survival in the Premiership was deemed immeasurable. The Premier League fined West Ham £5 million for breach of its rules, in playing an ineligible player in its team, whilst Sheffield United argued that the sanction should have been a deduction of points – a sanction which would have resulted in West Ham being relegated at the end of the season, and Sheffield United remaining in the Premiership.
---

Press Release - New Associate Law Firms - July 2008

RT Coopers are very proud to announce formal associations with the following specialist law firms:
Salih El Amin Intellectual Property, Dubai , United Arab Emirates; and
McCracken & Frank LLP, Illinois, USA.
---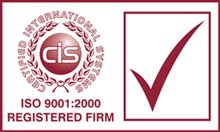 Press Release - Quality Award For RT Coopers - June 2008

Following an assessment by an independent body, RT Coopers has been awarded ISO 9000 Certification. This prestigious award for quality is supported by the Government and recognised world-wide. The award recognises RT Cooper's commitment to an exeptional quality of service. With only 3% of UK business holding this certificate, RT Coopers are now at the forefront of quality service and client care. Said a delighted Jenny Cooper "We have always been proud of the service we offer clients. Now with the award of ISO 9000, this has been confirmed by outside experts who are used to judging service on a daily basis in a wide variety of industry sectors"

For further information, please contact Jenny cooper at j.cooper@rtcoopers.com
---

Legal News

Please browse our Legal News below. Please visit Recent Deals for some of our recent instructions.

Intellectual Property Law – Media Law – Copyright Law - Literary Copyright – Screenplay – Injunction – Copyright Infringement – Film Industry - July 2008

The recent case of Obisanya v Ellis and Another [2008] involved a dispute relating to the literary copyright in a screenplay. The first defendant in this case wrote and made films, while the second defendant was a production company that made a short film. Subsequent to the production of the short film, a feature film entitled 'Cashback' was produced. The short film and the feature film were based on the first defendant's screenplay.

The short film was released in 2004, followed by the feature film in 2006. From 2001 until 2004, the claimant in this case worked on her screenplay called 'Cashback, Paper or Plastic'. She subsequently shortened this to 'Cashback'. Both screenplays and films had a common setting both were romantic-comedies. More
---

Intellectual Property – Domain Name Dispute – Trade Mark – Freedom Of Expression – Cyber-Squatting – Bio Pharmaceutical Company - June 2008

The case of Patel v Allos Therapeutics Inc [2008], involved a claimant that issued proceedings against the defendant, a pharmaceutical company. The claimant alleged that his right to freedom of expression had been violated due to a decision made by the panel of the Uniform Dispute Resolution Procedure. The decision in question related to a successful challenge by the defendant to his registration of the defendant company's name as an internet domain name. More
---
Commercial Law – The Business Protection from Misleading Marketing Regulations 2008 – Comparative Advertising - May 2008

The Business Protection from Misleading Marketing Regulations 2008 (SI 2008/1276) (BPRs) come into force in the United Kingdom on 26 May 2008. The BPRs implement the Misleading and Comparative Advertising Directive (2006/114/EC) in the UK and replace the Control of Misleading Advertisements Regulations 1988.
Advertising which misleads traders is prohibited under the BPRs and comparative advertising is permitted only if specified conditions are met. It is a criminal offence under the BPRs to engage in misleading advertising, but certain defences are available. More
---

Intellectual Property Law – Exclusion of Computer Programs from Patentability – Software Patents - Computer Programs – Article 52 Convention on the Grant of European Patents 1973 - whether patent claims could ever be granted for computer programs? - February 2008

The case of Astron Clinica Ltd and others v Comptroller General of Patents, Designs and Trade Marks [2008] concerned the test to be applied in assessing whether computer programs should be excluded from patentability under Article 52 of the Convention on the Grant of European Patents 1973 ("EPC"). More
---

Intellectual Property Law – Patentability of Computer Program – Presentation of Information - February 2008

The case of Autonomy Corporation Ltd v Comptroller General of Patents Trade Marks and Designs [2008] concerned the patentability of computer programs. On the 11th of February 2004, the appellant in this case filed a patent application with the UK Patent Office (now UK IPO). More
---

Commercial Property Law – Property Law - New Compulsory Purchase Rules - February 2008

The new Compulsory Purchase (Inquiries Procedure) Rules 2007 were introduced on the 29th of January 2008 and will take into account changes to the procedure and terminology introduced by Part 8 of the Planning and Compulsory Purchase Act 2004.

The rules prescribe the procedures which are to be followed in connection with any public local inquiry which may be held when considering whether to authorise the compulsory purchase order of land in England. More
---

Employment Law – Unfair Constructive Dismissal - Constructive Dismissal Test – Request for Part-Time Employment – Breach of Trust and Confidence - Maternity Leave - February 2008

The case of Shaw v CCL Ltd [2008] concerned the test to be applied in assessing whether an employee has been constructively dismissed. The employee in this case commenced her employment on the 15th of April 2002, as an area sales executive and in 2003, she became pregnant. She subsequently began her maternity leave on the 2nd of April 2004.

Then, on the 29th of November, she submitted a request for flexible working. This request was submitted by e-mail. In her submission she stated that she wished to return to her employment, however, she was only willing to do so on a part-time basis. More
---

Commercial Law – ICSA Guidance Note – Company Law - Directors' Duties and Liabilities - February 2008

The Institute of Chartered Secretaries and Administrators ("the ICSA") has recently issued a Guidance Note on Directors' Duties. The ICSA periodically publish new guidance notes on directors' duties in order to provide guidance to directors of companies on their new general duties. It should be noted that there has been an implementation of a number of new directors' duties resulting from the Companies Act 2006. More
---

Intellectual Property Law –Disclosure of Documents – Whether Documents had to be Disclosed by the Entire Group of Companies - Patent Dispute – Lack of Inventive Step – Invalidity - Obviousness - February 2008

The case of Schlumberger Holdings Ltd v Electromagnetic Geoservices ASA [2007] involved issues relating to the disclosure and inspection of documents. The claimant in this case was the holding company of a large group of companies. The group of companies amounted to the world's largest oilfield services corporation and operated in about 80 countries. More
---

Intellectual Property Law – New Fast Track Trade Mark Service - January 2008

The Intellectual Property and Quality Minister, Lord Triesman, announced in January 2008 a new fast track service for trade mark applications. The new service is expected to be launched on 6 April 2008 and the cost will be £300 in additional to the trade mark application cost.Visit http://www.ipo.gov.uk/press-release-20080114
---

UKIPO Launches New On-line Patent Service - January 2008

The UKIPO has launched a new web-based service which allows anyone interested in filing a Form 23 and obtaining copies of documents on a patent file (open to public inspection) to make a request and receive electronic documents. Visit http://www.ipo.gov.uk/press-release-20080125
---

Enforcement of Intellectual Property Rights - Gowers Review of Intellectual Property Rights - January 2008

The timetable and recommendations relating to the enforcement of intellectual property rights have now been published at http://www.ipo.gov.uk/policy-issues-gowers-enforcement.
---

Intellectual Property Law – Format Shifting is Technically Illegal – Gowers Report - Copying Music from a CD to an MP3 player – Selling Pirate Music and Films on the Internet – Private Copying Exception - January 2008

According to a recent report, the Gowers Report ("the Report"), it has been suggested that criminals willing to infringe copyright in media and entertainment products should face tougher regulation in order to try to protect the entertainment industry. The purpose of the Report was to examine ways in which UK copyright laws can be modernised in order to reflect the growing problems presented by the advent of the internet and other digital forms of entertainment.

The Report proposes a number of new powers aimed at preventing copyright infringement. However, it also recommends that private users should be allowed to 'format shift'. Format shifting is when, for example, users copy music from a CD to an MP3 player. Furthermore, the Report suggests that copyright protection granted for recorded music, which currently stands at 50 years, should remain. More
---

Intellectual Property Law – Trade Mark Infringement – Passing Off – Counterclaim for Invalidity - January 2008

In the case of Bignell (Trading as Just Employment (A firm)) v Just Employment Law Ltd [2007] the claimant brought proceedings against the defendant company for infringing its registered trade mark "JUST EMPLOYMENT". The claim was dismissed and the defendant's counter claim for a declaration of invalidity was allowed on the basis that the trade mark should not have been registered because it lacked inherent distinctiveness. More
---

Intellectual Property Law – Trade Mark Application and Opposition – OHIM – Invalidity Claim, Passing off - January 2008

In the case of Kitfix Swallow Group Ltd v Great Gizmos Ltd [2007],the claimant brought proceedings against defendant for trade mark infringement and passing off. The claimant in this case was a company which was the registered proprietor of a registered Community Trade Mark. The registration was for the word mark "Sequin Art" in respect of artistic materials, namely craft and hobby kits for making pictures. The claimant also argued that it was entitled to the good will attached to manufacturing and selling craft and hobby kits under the name "Sequin Art". More
---

Intellectual Property Law – Opinion of the Comptroller of Patents – Patent Infringement – Right to Appeal - January 2008

The case of Re: An appeal by DLP Ltd [2007] involved an appellant who sought an opinion from the Comptroller of Patents as to whether a third party's product infringed theirs. The appellant in this case was a company which held the UK patent 2,394,175B ("the Patent"). The Patent related to shower trays, in particular to low level shower trays which could be easily accessed by infirm or disabled people while seated in a wheelchair.

The appellant sought an opinion from the Comptroller of Patents under s.74A of the Patents Act 1977 ("the Act"), whether a shower tray made and sold by a third party infringed the Patent. More
---

Employment Law– Transfer of Undertakings - TUPE – Employee Lack of Knowledge of New Employer - January 2008

In the case of New ISG Ltd v Vernon and Others [2007] an employee did not know who his new employer was going to be after his existing employer was sold. According to Regulation 4(7) of the Transfer of Undertakings (Protection of Employment) Regulations 2006 ("TUPE"):

"(7) Paragraphs (1) and (2) shall not operate to transfer the contract of employment and the rights, powers, duties and liabilities under or in connection with it of an employee who informs the transferor or the transferee that he objects to becoming employed by the transferee".

The defendants in this case had all been employed in sales positions by ISG ("the Company"). The Company's business provided recruitment agency services for both white and blue collar workers to the rail industry. It was well known that there were fewer clients, as well as a shortage of skilled professionals and engineers, in the rail industry than in other industries. Those involved in the industry knew and dealt with almost all of the clients and candidates. More
---

Employment Law– Time Limit – Unfair Dismissal – 8 Seconds Late – Determination of date of Termination of Employment – Amendment of Notice of Appeal - January 2008

In the case of Miller v Community Links Trust Ltd [2007], the employee had failed to present his claim for unfair dismissal within the prescribed period. The employee brought a complaint before the employment tribunal claiming unfair dismissal. The claim form was submitted online by the employee's representative, N, at one second before midnight on the 29th of September 2006. It was received at eight seconds after midnight.

At a pre-hearing review, N stated that he knew that the effective date of termination of the employee's employment was the 30th of June 2006. The tribunal dismissed the employee's claim. It stated that the time for the employee's presentation had expired on the 29th of September. It further held that it had been reasonably practicable for the complaint to have been presented within the prescribed time limit. In addition, the tribunal made various findings against N. The employee appealed against this decision and subsequently sought to amend the notice of appeal to take issue with the tribunal's finding as to the effective date of termination. More
---

Commercial Law – Shares – Security – Liability - Indemnity Against Losses - January 2008

The case of Walker Crips Stockbrokers Ltd v Savill [2007] concerned a claimant who was engaged by the claimant as an associate stockbroker acting as an agent for enterprises for the purpose of obtaining business from customers. His terms of engagement were set out in a written agreement.

After company restructuring, the claimant gave the defendant an associate agreement to sign. It was a term of that agreement that:

"…If as a result of any transaction carried out by an associate or any action on the part of any client of the associate or any failure to fulfil its obligations of a contract, any member of the [claimant group] suffers a loss and that loss was caused by the associate or his client directly or indirectly, then the associate would be responsible for the total loss".

It was also a term of the associate agreement that: "…An associate would not do or omit from doing anything in relation to his activities to cause the claimant to be in breach of any in-house dealing rules".

In-house dealing rules stated that speculative positions would have to be conducted through a nominee account. Furthermore, it stated that a 25% security was required by way of stock or cash on deposit before any transaction could be carried out. The associate agreement was signed by the administrative director of the claimant. However, the defendant amended the associate agreement, and then returned it to the administrative director. The administrative director subsequently struck through the amendments made by the defendant. More

Archive
Recent Deals

Please visit Recent Deals for some of our recent instructions.